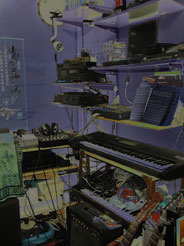 Equipment used: Korg 01/Wfd, Korg MonoPoly,(venerable old synth),
Yamaha digital Piano and Roland SP 505 sampler,
plus other bits and bobs. Guitars of various sorts, electric and accoustic
and occasional violin.
Recorded around 1999 to 2000.
Sadly I no longer have the Korg MonoPoly but it was a justified and ancient synth if ever there was one. "There are more things in heaven and earth, Horatio,
Than are dreamt of in your philosophy".